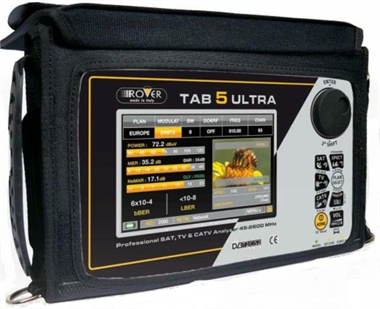 ROVER HD TAB 5 ULTRA
| | |
| --- | --- |
| Code: | AE9979 |
| Brand: | Rover |
| SKU: | HD TAB 5 ULTRA |
| EAN: | N/A |
Description
SPECIAL ORDER - Please allow 2 - 3 days for delivery
AE9979 ROVER HD TAB 5 ULTRA

Please Note : All technical specifications are subject to change without prior notice. Some options must be requested with your Grax showroom when ordering the instrument.

Features

Exclusive patented ROVER AUTODISCOVERY system: auto-matically detects and selects analog and digital COFDM/QAM TV signals in both measurement and spectrum mode.
Automatically identifies all the signals with digital modulation SAT TV and CATV.
Automatic Assistant: Signal Quality analysis Channel Scan memorization.
Barscan TV & CATV function from 10 to 100 channels on one screen.
Buzzer & Noise Margin real time graph for digital signals microinterruptions.
Reflectometric measurements APP.
Optical Input (opt.).
WI-FI analyzer (opt.).
HEVC H265 decoder (opt.).
SATELITE: DiSEqC SCR dCSS & Motorized antenna commands SAT FINDER & SAT EXPERT.
Custom Channel Plans: 25 (199 ch. per plan) Programmable TV SAT (or combined TV/SAT) by PC or Local Keyboard.
Loggers: TV SAT & combined with stop & go function.
SAT Memory Plan: More than 2.000 transponders prememorized for world wide Satellite.
Free S.M.A.R.T. PC interface program and FW upgrades.
OPTIONS*: Check the Cross reference.

SPECIFICATIONS: MEASUREMENTS SPECTRUM ANALYSIS & PICTURES


Frequency Range: TV CATV & Radio: 30-1.000 MHz; SAT: 700–2.700 MHz.
Frequency Resolution: TV & CATV 25 KHz; SAT: 5 MHz.
Power range Meas.: TV 35 to 115 dBμV SAT 5 to 105 dBμV.
Digital Meas: Digital Power MER (36 to 40 dB max depending on modulation) BER PER LDPC BCH Noise Margin MER versus CARRIER.
Measurement Resolution: 0.1 dB.
Level Measurement Accuracy: 1 dB typ. (2 dB max.)
Resolution Filter Bandwidth: TV & CATV: 100 KHz @ -3 dB; SAT: 5 MHz @ -3 dB.
Constellation: for TV/CATV and SAT signals.
Spectrum: Fast spectrum Max Hold and spectrum memorization with real time compare function.
Net-id on board: Net-id NID TSID LCN SAT Orbit Position.
Echoes Pre-echoes Micro-echoes: Representation in real Time.
Quality: Digital Auto quality Test: PASS-MARGINAL-FAIL.
Digital Pictures: MPEG2-4 SD & HD HEVC (opt.) pictures with Program List Audio Video PIDs LCN Video bit Rate all on one screen.

OPTICAL MEASUREMENTS


SC input connector.
Automatic loss calculation.
Wavelengths (nm): 1310 1490 & 1550.
Range: -25 to +6 dBm.
Resolution: 0.1 dB.
Accuracy: +/- 0.5 dB.
Optical to RF conversion.

COMM. PORTS AND OUTPUTS


RF Input : 75 ohm (interchangeable "F").
USB 2.0: Type B (PC Interface).
Audio: AAC supplied DOLBY (opt.).
Video: Composite Video input.

GENERAL SPECIFICATIONS


5" TFT TOUCH display: 16:9 high resolution and high brightness.
Power Supply: Built in LiPo battery with 2 to 4 hours duration (depending on the function) & Battery Test function.
DC voltage at RF input: 5 – 12 – 18 – 24 VDC DiSEqC SCR & dCSS commands.
PC Interface: USB-B.
Front-Panel: Alpha numeric keypad.
Power Save: TFT backlight timer brightness adj.
PC Management: S.M.A.R.T. software.
Weight: only 14 Kg with batteries.
Size: H 130 x W 255 x D 4 cm.
Housing: Aluminium and Steel and padded bag.

OPTIONS (See Your Branch For Details)


Optic Ingress
Decoding HEVC H265 images
WI-FI analyzer
Dolby Audio AC3 DD+
Elite bag with extra padding

For the Latest Rover Software Update Click Here