WHYTE 5 Wire 4 Way dSCR Multiswitch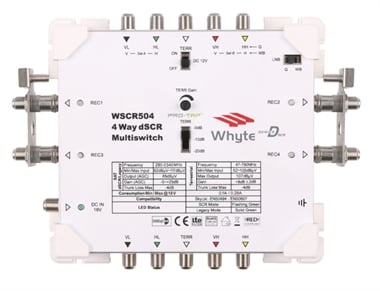 WHYTE 5 Wire 4 Way dSCR Multiswitch
| | |
| --- | --- |
| Code: | AE8464 |
| Brand: | WHYTE |
| SKU: | 10046 |
| EAN: | N/A |
Description
Advanced Cascadable 4 way dSCR Multiswitch. Seamlessintegration with conventional IRS Systems due to extremelylow power consumption, low loss passive trunks and highgain TERR, make the new Series D range from Whyte themost versatile and easy to install dSCR Multiswitch rangeavailable.
Each subscriber output provides SkyQ, Legacy, TV andRadio. Satellite subscriber signal levels in both Legacy anddSCR mode are automatically set to 85dBµV.
Terrestrial signal levels are controlled via a manual GainControl knob and a selectable Protean Tap which permitsa wide range of TERR input signal levels from 50 to108dBµV. The reception of 2 satellites can easily beachieved by utilising 2 Wideband LNB's and switching theunit to Wideband LNB mode. The unit can be powereddirectly via the DC input port or be remotely powered viathe trunk lines.


Extremely low power consumption (Min/ Max) 0.1A/0.28A
Easy integration with conventional IRS systems
High Gain TERR with Gain Control and Protean tap
Compatible with Quattro and Wideband LNB's
Comes fitted with Earth Bars
Switchable 12V DC supply to TERR input
Quattro LNB for single satellite 5 Wire system or 2 Wideband LNB's for 2 Sat reception
Balanced dSCR and Legacy output signal levels (AGC) for easy system planning
Uncomplicated DC powering option
---
View documentation for this product here.