TECHNOMATE 60cm Mesh Dish (BULK)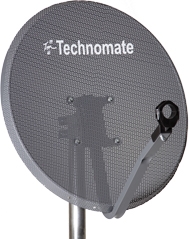 TECHNOMATE 60cm Mesh Dish (BULK)
| | |
| --- | --- |
| Code: | AE8105 |
| Brand: | Technomate |
| SKU: | TM-60M |
| EAN: | N/A |
Description
The TM-60 M is a high-gain mesh offset satellite dish that will give you the best possible signal strength and quality from a mesh dish of this size.A mesh dish allows the strong winds to pass through the dish greatly reducing the impact of wind against a dish (when compared to a solid dish). Please note that signal quality is slightly less than a solid dish.Long-term corrosion is further prevented by an extremely thorough anti-corrosive process and polyester coating. A solid construction of all parts including the non-slip mast brackets ensures that the dish remains in its correct position when other dishes are damaged in high winds or storms.
BULK PACKED (Loose)
We CANNOT send these by carrier!
Collect or van delivery only!
Diameter: 59cm x 55cm
Material: Galvanised Steel
Frequency: 10.70-12.75GHz
Coating Finish: Polyester Powder
Dish Only (with back plate & pole mount fittings). Wall bracket not included.
LNB Holder: 40mm